join our ohana
Volunteer Your Time
Volunteering at the Honolulu Zoo is a great way to learn about animals, gain valuable experience, support a beloved community institution, support conservation initiatives, meet new people and work outdoors in a lush tropical environment! Join the Honolulu Zoo's volunteer program and contribute to the Zoo's mission of inspiring the stewardship of our living world.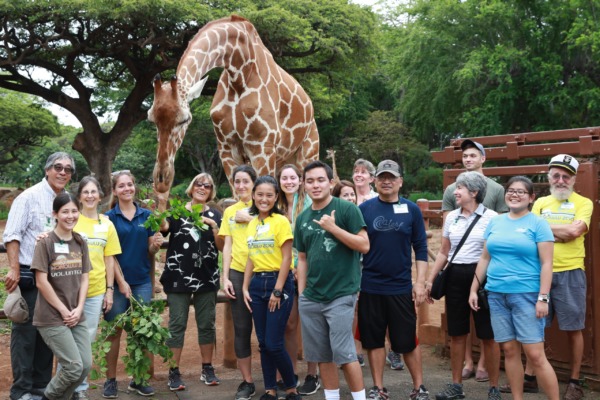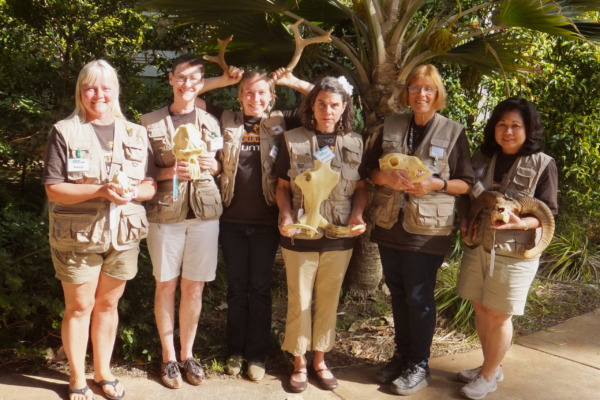 Volunteer Testimonials
The best part of volunteering at the zoo is being able to pass on some knowledge to people, especially young people, about wild animals so they will appreciate how wonderful nature is and do their part to protect and preserve it for future generations.
When I joined the staff of volunteers at the Honolulu zoo in 2011, I could not imagine that ten years later I would still be a part of this unique and wonderful ohana. The animals I love brought me here, but it's the people that make me want to stay year after year. The volunteers come from all walks of life and bring their culture, their stories, and their experiences for all to share. We are similar in that we all love dearly our family of animals, whom we want our visitors to be more appreciative of and more knowledgeable about, but we are all so different that we really feel enriched by working together, side by side, in camaraderie and fellowship. Do join us! The fun never ends, and our menagerie is truly adorable!
I am passionate about birds! Volunteering at the Honolulu Zoo has greatly increased my appreciation of the critical role they play in keeping our ecosystem in balance.
Volunteering is a way to give back to the community and I am fortunate to be able to share my love of our feathered friend with others.
Basic Requirements
Those applying to volunteer should meet these requirements.
Be 18 years of age or older (Exceptions: Jr. Leader Program, Event Volunteers and Community Groups) (Please see program descriptions for updates due to COVID)
Complete the required online Volunteer Application
Pass a criminal background check
Complete and sign the Waiver of Liability
Successfully complete general orientation and volunteer training specific to the program placed
Meet for an in-person interview with Volunteer Program staff and or other Zoo staff
Meet the minimum time commitment of 3-6 months, depending on the program, minimum 1 shift per week
Volunteer Benefits
Professional training for each program
Gift shop and snack bar discounts
Volunteer appreciation event(s)
Furthering educational opportunities
Discounts on Honolulu Zoo Society memberships
Helping the Honolulu Zoo fulfil their mission, making a difference in the lives of staff, visitors and animals at the zoo and abroad.
Volunteer Opportunities
For those under 18 please note our Jr. Leader program on the Volunteer Programs page