The Honolulu Zoo is the only zoo within a radius of 2,392 miles. It is also the only zoo in the United States that originated in a King's grant of royal lands to the people. In 1876, King David Kalakaua, Monarch of Hawai'i, made lands of the Leahi Crown Holdings available, "to the people of Hawai'i."
The 300-acre parcel was primarily a marshland of old fishponds, lagoons and islands. In 1877 King Kalakaua dedicated Kapiolani Regional Park named for his consort Queen Kapiolani. Appointed Park Association members developed the land with the help of royal subsidies to display the King's private bird collection and to feature a horseracing track.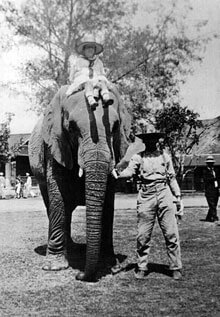 In 1914, the City of Honolulu assumed responsibility for the park and the first Park Director, Ben Hollinger, began collecting animals. He began with a monkey, bear and an African elephant "for the children of Hawai'i." With a world-wide reputation for its Bird-of-paradise collection, in 1938 "Kapiolani Bird Park" grew to include three large aviary complexes. E.H. Lewis, noted ornithologist and superintendent of the bird park on Santa Catalina Island, CA. was brought in to supervise the establishment of "modern" techniques for breeding and bird care.
In 1947, 42.5 acres within Kapiolani Regional Park, was designated as the Honolulu Zoo. Paul Breese was hired as the first Zoo Director and worked to develop its first Master Plan In 1952, the zoo was converted to a then popular layout showing animals in taxonomic groupings of bird, reptile and mammal exhibits. The first director was succeeded by Jack Throp, and the staff increased to twenty-eight. Jerome S. Marr became the third director in 1979.
The modern Honolulu Zoo originated in 1984, when a second Master Plan was developed for a Tropical Zoological Garden. It organized all exhibits into three tropical ecological zones: the African Savanna, Asian and American Tropical Forests, and Pacific Islands.
During this time zoo staffing grew to between 80-85 employees. In 1993, Ken Redman, was named to the Director's position. He worked on updating the zoo's Master Plan until his retirement in 2008. Linda Santos, the current Zoo Director, has been at the zoo since the 1970s and is committed to making our zoo a place of refuge and wonder for residents and visitors alike.
Operated by the City and County of Honolulu, the Waikiki land on which it is located belongs to the Kapiolani Charitable trust by an agreement between the Republic of Hawai'i and the Kapiolani Park Association. The aim of the agreement was for the now 220 acres of Kapiolani Regional Park to remain a place of natural beauty and ornamental landscaping, and to ensure free, recreation grounds for the benefit of Hawai'i's residents and visitors.